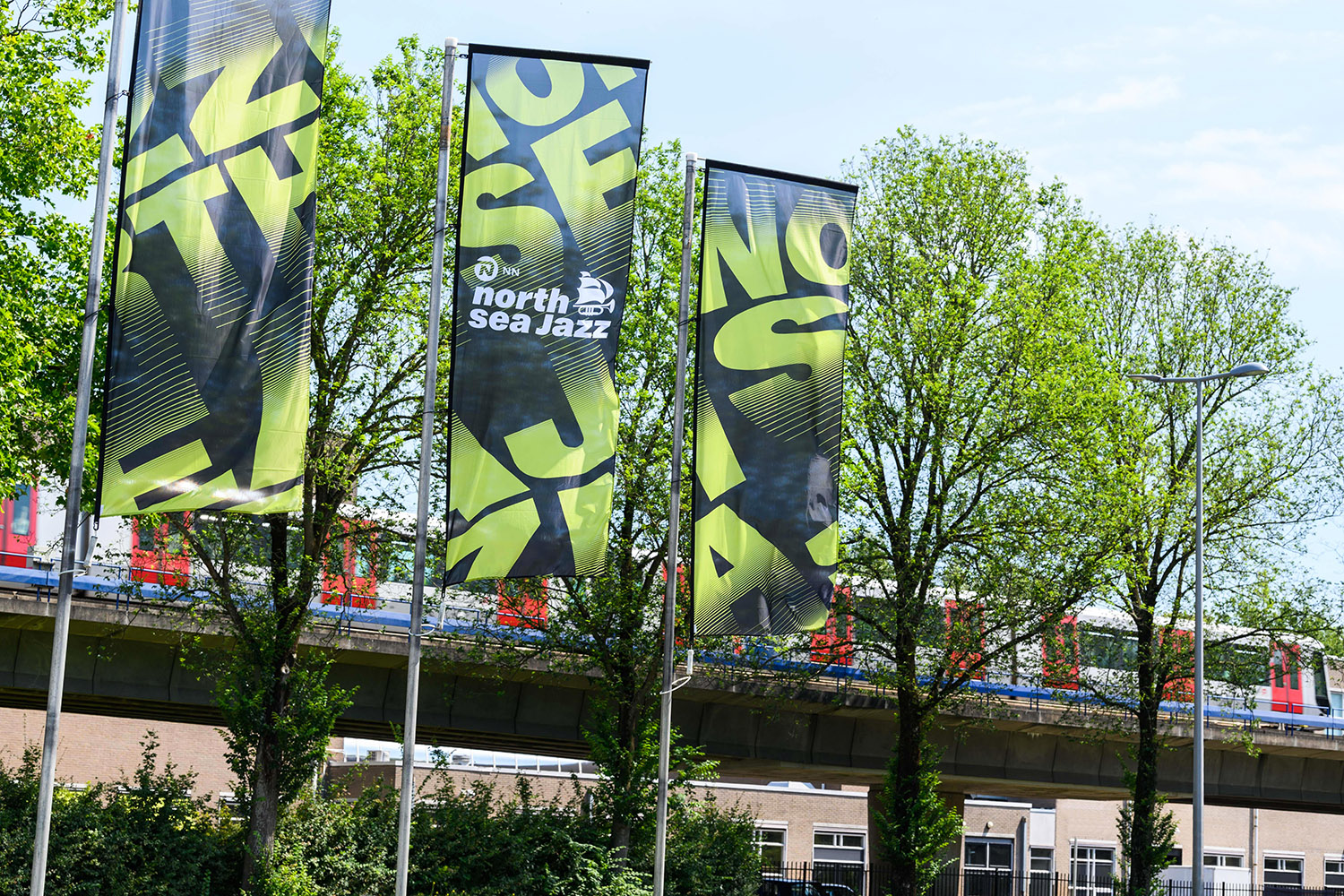 How to get to and from the NN North Sea Jazz Festival
During the festival access roads and parking spaces get very crowded. We therefore advise you to use the public transport, with which Rotterdam Ahoy is easily accessible. Before you leave, please check the site for updated information about your mode of transport. The doors of Ahoy open at 2.30 pm.
Follow the signs which will take you to the nearest available parking area. Since there probably will be a shortage of parking space and many traffic jams towards and from Rotterdam, we advise you to use the public transport facilities such as the train, bus and metro.
Book your parking space at Rotterdam Ahoy or Stadium Feijenoord
You can book a parking space at Stadium Feijenoord. Shuttle buses depart from Stadium Feijenoord towards Rotterdam Ahoy. There are also some parking tickets available at Rotterdam Ahoy. Tickets can be purchased at Ticketmaster.
If you travel to Rotterdam Central Station, you can transfer to a metro which takes you to Ahoy (Zuidplein stop). After the festival, you can make use of the night trains in the direction of Den Haag/Amsterdam. The Night network will bring you up to Utrecht. If you're travelling in the direction of Dordrecht / Breda, please note the last train leaves according to the regular time schedule.
PLEASE PLAN AHEAD! Construction is being done on Dutch railroads, mainly on weekends. Please check
www.ns.nl
for any changes in the regular schedule.
Ahoy Rotterdam is easily reached using the metro and with over 30 different bus lines stopping at the Ahoy. Metro Line D departs from Rotterdam Central Station and Metro Line E is a straight metro from The Haque Central Station to Ahoy (stop Zuidplein).
Especially for the NN North Sea Jazz Festival, metro trains have an extended night schedule between Slinge and Rotterdam Central Station until 2.55 a.m. on Friday and Saturday night. Three night metro trains will ride all the way to Den Haag Centraal Station. On Saturday and Sunday you can also use the regular night buses (so-called "BOB bus") that can take you to several destinations in and around Rotterdam. Please check www.ret.nl for more information.
In the Rotterdam bus, tram and subway you need the smart card for public transport ("OVchipkaart"). A special throw-away smart card is available for non-residents. Special tickets are available for the night bus ("BOB bus") for € 4.50 (no smart card needed). Please check
www.ov-chipkaart.nl
for more information
Visitors can also purchase a Rotterdam Welcome Card. This is a chip card that allows you to travel unlimited for 1, 2 or 3 consecutive days on all metro, tram and bus lines of the RET public transport network.
Together with this chip card, you will also receive 50 discount vouchers for attractions, museums, restaurants and places of entertainment. Please check www.rotterdam.info for more information.
Taxis can be found at the forecourt of Ahoy and for UBER and other ordered transport there is a stand in Twentestraat, near Ahoy.