Ambrose
Akinmusire
winner
Paul Acket
Award 2014
Ambrose Akinmusire is the winner of the Paul Acket Award 2014. This prize is awarded every year by the festival and presented to artist deserving wider recognition for their extraordinary musicianship. With this prize, the North Sea Jazz organisation wants to highlight talented jazz musicians at the beginning of their career, known within the jazz scene, but not yet recognized by a wide audience.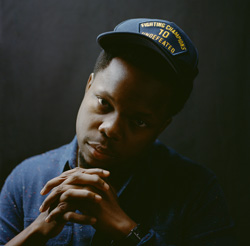 Ambrose Akinmusire is an American trumpeter who developed his own unique musical style by being exposed to dynamic ways of playing and collaborating with musicians with varied experiences. Recently, Akinmusire worked together with such artists as Jason Moran, Herbie Hancock and Wayne Shorter. His latest album The Imagined Savior Is Far Easier To Paint was released on the renowned Blue Note label in March.
Jury member Frank Bolder, of venue LantarenVenster and North Sea Jazz, defines Ambrose Akinmusire as one of the most interesting young jazz trumpeters of this time, and one that centainly deserves a wider audience. "Ambrose plays the trumpet magnificently, with a lot of technique, and produces an extraordinary sound. Apart from that he is a versatile composer, who shows a broad knowledge of jazz history, as well as an outright interest in quality pop music." According to Koen Graat of November Music/Jazz in Duketown, he is seen as "one of the hottest new guys in town".
Jury member Gerry Godley, founder and artistic director of the 12 Points Festival heard Ambrose for the first time at North Sea "and he was worth the journey to one of the festival's more remote rooms. The rooms have subsequently got bigger, deservedly so, but his music has retained the same arresting quality, with that equilibrium between heritage and innovation, freedom and constraint that is a hallmark of the best jazz communicators."
John Gilbreath of the American Earshot Jazz Festival: "Ambrose Akinmusire has all of the virtuosity, intellect, and passion for the art form that we've come to expect in today's young jazz stars, but the way he integrates these qualities with his distinctive worldview, and wraps it all with remarkable heart, clearly sets him apart from the crowd. I believe in this artist, and the power of the prestigious Paul Acket Award to help him enrich the world of jazz that we all love."
The Paul Acket award has been supported by the Foundation BNP Paribas since 2011. Jean Jacques Goron, Managing Director of the Foundation said: "Alongstanding partner of jazz music, the BNP Paribas Foundation has helped numerous musicians forge their careers. As a main partner of thePaul Acket Award, we wish to congratulate Ambrose Akinmusare, who is notonly a great trumpeter and composer but also a producer, as illustrated byhis recently released CD "The Imagined Savior is Far Easier To Paint".
Ambrose has significantly expanded his musical palette, adding guitaristCharles Altura to the quartet, and featuring the OSSO String Quartet along withvocalists Becca Stevens Theo Bleckmann, and Cold Specks.The songs are perfectly arranged, with pieces for quartet along with almostcompletely improvised tracks. The result is music with a truly distinctiveidentity. Ambrose is clearly destined to become a leading musician in jazz.We wish him all the best."
Ambrose Akinmusire will receive his prize at the festival where he will perform on Friday July 11.

Paul Acket Award
With this award, the North Sea Jazz organisation wants to highlight talented jazz musicians at the beginning of their career. These artists are already known within the jazz scene, but not yet recognized by a wider audience. Besides a trophy, the winner of the Paul Acket Awards also receives a cheque of 5000 euro, meant to push his career even further. Former winners of this award are amongst others Anat Cohen (2013), Craig Taborn (2012), Arve Hendriksen (2011), Christian Scott (2010), Stefano Bollani (2009), Adam Rogers (2008), Gianluca Petrella (2007), Conrad Herwig (2006) and Ben Allison (2005).